Broccoli's Baby Blanket
I have a confession to make. I haven't updated this site in a while.
Seriously, this is a confession? You think we couldn't tell this?
I heard that.
Yes, it's been about six months. A big six months. Where did I go? Well, I went and got pregnant. And early pregnancy does not agree with me. This is a crochet site, so I won't go too much into it, but suffice it to say I was barely up to being up, let alone crocheting, far from blogging about crocheting.
The day I found out I was pregnant I did what any newly expecting mom would do... I went to the yarn store to get supplies and start a baby blanket! Well, it took me a while to finish, but a few months ago (and a few months before the baby is due) I did finish the beautiful blanket.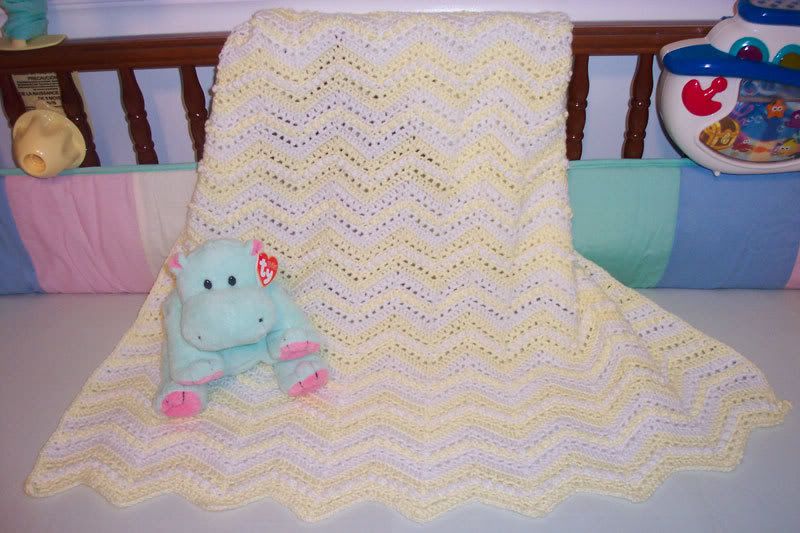 The pattern is called "Baby's Joyful Arrival," and that's what we're waiting on now! It's from
Afghans for All Seasons
, book four, and it might look familiar to readers of this blog.
I made this afghan in pink and white two years ago for a friend
. And what did I say about it?
I think it turned out beautifully, but I don't think I will make one again - unless it is for my own next child!
And that's what I did.
Labels: crochet, gallery-mywork
posted by Kate on Thursday, September 13, 2007 @ 9:36 PM

1 Comments:
Very cute blanket and congrats on the soon to be bundle, have you found out the sex of the baby? 10:20 PM