The Blue & White Pink & White Baby Set
Like I said, I'm not the only one having a baby right now. My high-school and college friend and her husband just had their first child, a sweet baby boy, and I made her a baby set (I'm loving them!).
The pattern is
Pink & White Baby Set
, a free, vintage (1955) pattern from Celtwich's Angelfire site. Clearly, I made the set in blue. I also decided that sacque, mittens and booties are fine, but bonnet makes it a little girly. So I made a little toboggan in the same pattern stitch. The problem is that I was clearly feeling optimistic about childbirth and made a hat that was too small for even Baby Becky's head. So while it's in the picture, it didn't make the present package.
I used about 3.5 ounces (2 balls) of blue and half a ball of white in
Bernat Baby
with a size E hook. The pattern calls for a ribbon tie around the neck, but I really prefer buttons, so I modified the pattern a touch. I think it turned out nicely!
It was hard to find a pattern that didn't look too "girly", even in blue, but I'm keeping this one on file for later!
Labels: crochet, gallery-mywork
posted by Kate on Monday, October 01, 2007 @ 4:04 PM
2 comments

Adorable Addie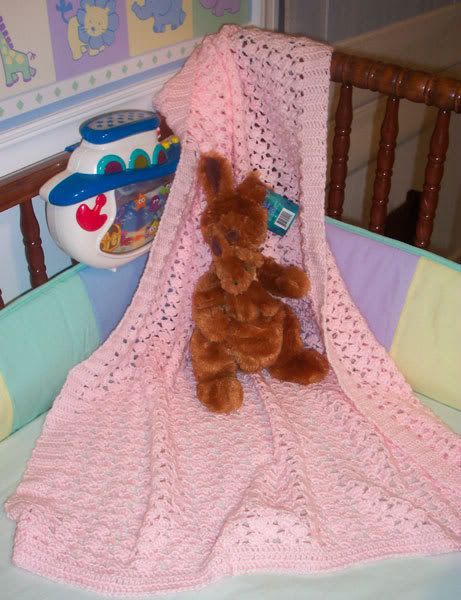 I'm not the only one having a baby girl! A friend of mine from church is due within a week of me, and is also having a girl. In addition to some (totally non-girly; it's a hazard of paternal profession shared by my daughters) cute cuddly (store bought) clothes, I made her this baby blanket as a baby shower gift.
(By the way, in case you can't tell, that's a stuffed kangaroo with joey sitting on it.)
If you know the friend - shh! The shower isn't until the second week of October, but by then I will have forgotten to ever post this!
The pattern is actually called "Shell" (descriptive? yes. original? not so much.), and is from
Beary Sweet Baby Afghans
(Leisure Arts leaftlet #2774). For people who like having a pattern to work from, it's an inexpensive little leaflet. But while I think the blanket is pretty and I like having the "built in" border, I think that you could probably figure out a similar pattern to fit your needs without the pattern pretty easily if you are comfortable with working "pattern free".
I used just shy of three balls (5 oz each) of
Bernat Softee Baby
in pink, and a size G hook. The pattern worked up fairly quickly, and was easy to work on without looking at the whole time, so I got to work on it while I took my daughter to the summer movie series. The blanket was a gift to me, as it helped me keep my sanity during
Clifford
,
Sesame Street
and multiple viewings of
Charlotte's Web
! Under other circumstances I might have appreciated the bit of extra warmth in the theater, but I'm a pregnant little oven and was quite warm enough.
Labels: crochet, gallery-mywork
posted by Kate on @ 12:45 AM
2 comments

Lovely Lavender Baby Set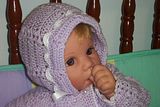 In the past few months I have been on a layette kick. This is the set that kicked it off for me! I originally was going to make the set in white (you can read below why that one didn't work out), but I love the way it turned out with the lavender!
The set uses about 4 ounces of yarn, plus about 45 yards of size 8 pearl cotton, all done with a D hook. I especially like that the pattern calls for buttons, as opposed to a ribbon tie, on the sacque, and I have modified most of the other sets I have made since to include buttons, also.
The pattern comes from
Baby Layettes, Book 2
(Leisure Arts #460). This book has two sets in it, one knit and one crocheted. Each set has a pattern for a dress (or same pattern with mods for a gown), sacque, bonnet, booties, and blanket. The one complaint I have I can alleviate for you right now (and maybe you're smart enough for it to not have been a problem!) - when it calls for "baby yarn" it means "fingering weight".
Yes, I tried making it with sport weight baby yarn, and then started thinking "this is really huge", and then "why am I using such a small hook on such thick yarn?"
You live and you learn, right?
By the way, many thanks to my lovely model, Baby Becky, my daughter's favorite doll!
Labels: crochet, gallery-mywork
posted by Kate on Friday, September 28, 2007 @ 2:40 PM
2 comments

Crochet Enclosure Cards
I had been looking for something to include with my crocheted gifts, and some way to enclose care instructions, too. I hadn't come up with much.
There was the sew-in tag option. I could buy a pack of customizables, or get custom ones made, or
make my own
, but none seemed like a great solution to me. I wouldn't want a tag sewed onto an afghan or in a baby set, personally, so why would someone else want it on something I gave? Plus, it wouldn't have the care instructions option.
No, I needed something else.
The solution presented itself when I had to get some items from
VistaPrint.com
for a church group. It didn't take much more in shipping to have a box of business cards sent, and they were running a special (aren't they always?) for free premium business cards.
I found a design I thought looked classy, played around with the text and formatting, and ended up with what you (mostly - I blurred some info) see above.
They say "Uniquely hand-crocheted by Katherine E. Dohl", and then some contact info. The backs are totally blank, and I put care instructions unique to the project (if necessary) or other message on the back. I thought a lot about the wording before I finished it up.
Uniquely

- each of my projects is unique, some to the point of free-form, others unique just because of the nature of hand-crafts

Hand-crocheted

- all crocheters probably think I'm being redundant, and I guess I am, since there is no way to machine crochet, but many non-crocheters don't realize this and I thought this was a fine way to include it
not including

"especially for you"

- I originally had "especially for you", but I have had a few projects that I have sold, not to mention I have some smaller projects I have made before having a recipient in mind. I don't feel comfortable in those situations claiming they were made "especially for you" (unless it was a commissioned project). There is a good space beneath my name that I have used to personalize a tag by adding "especially for Jane Doe" in the many cases where it is made beginning to end with a particular recipient in mind.
I think they turned out very nice, and I look forward to having 250 projects to attach them to that necessitate another printing!!
posted by Kate on Thursday, September 27, 2007 @ 12:40 AM
0 comments

Kaitlyn's "Big Sister Blanket"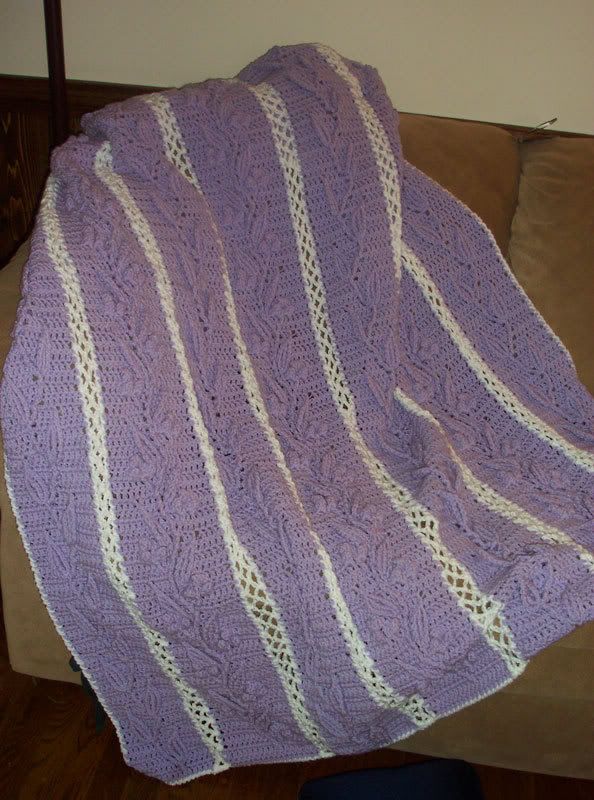 While I was working on
Broccoli's baby blanket
, I thought about my 2 1/2-year-old daughter, Kaitlyn. I hadn't made her an afghan since her baby blanket that I started the day I found out I was pregnant with her. Well, except for the kid version of Keith's blanket.
Closeup of panel details -->
Not to toot my own horn, but I have gotten better at crocheting since that time (or at least better at/more adventurous in trying new patterns). Also, I wanted Kaitlyn to get something special when the baby was born and not feel too overshadowed by the new baby. So my husband helped me pick out a pattern for a special afghan that Kaitlyn could keep throughout her whole life.
The pattern is called "Ivy Cottage" and is from
Afghans for All Seasons, Book 4
. I used plain old Red Heart worsted weight in lavender and white with an I hook. It took six skeins of lavender and one of white.
I was skeptical of the edging on the panels, since it was basically just reverse single crochet, but it looked good when it was done. I think I would figure out another edging/joining if I was doing it again, though.
Labels: crochet, gallery-mywork
posted by Kate on Thursday, September 13, 2007 @ 10:03 PM
1 comments

Broccoli's Baby Blanket
I have a confession to make. I haven't updated this site in a while.
Seriously, this is a confession? You think we couldn't tell this?
I heard that.
Yes, it's been about six months. A big six months. Where did I go? Well, I went and got pregnant. And early pregnancy does not agree with me. This is a crochet site, so I won't go too much into it, but suffice it to say I was barely up to being up, let alone crocheting, far from blogging about crocheting.
The day I found out I was pregnant I did what any newly expecting mom would do... I went to the yarn store to get supplies and start a baby blanket! Well, it took me a while to finish, but a few months ago (and a few months before the baby is due) I did finish the beautiful blanket.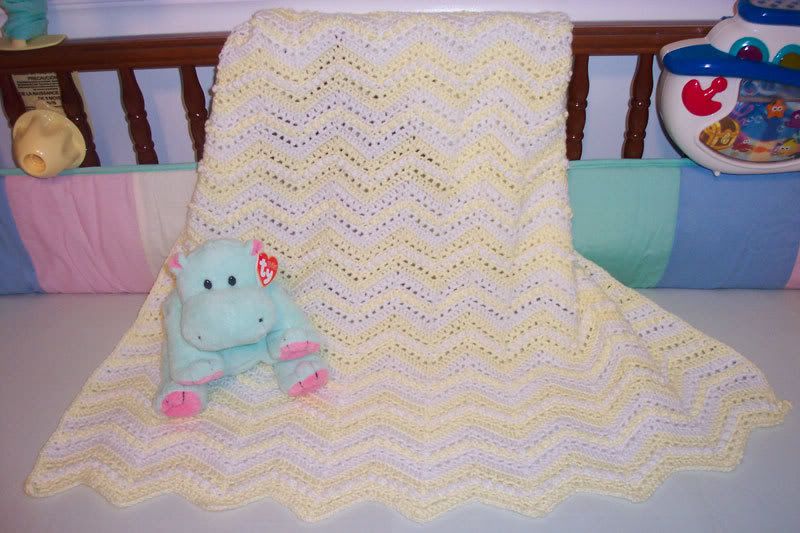 The pattern is called "Baby's Joyful Arrival," and that's what we're waiting on now! It's from
Afghans for All Seasons
, book four, and it might look familiar to readers of this blog.
I made this afghan in pink and white two years ago for a friend
. And what did I say about it?
I think it turned out beautifully, but I don't think I will make one again - unless it is for my own next child!
And that's what I did.
Labels: crochet, gallery-mywork
posted by Kate on @ 9:36 PM
1 comments